"If you send the following:
effective. Power لُلُصّبُلُلصّبُررً ॣ ॣh ॣ ॣ 冗
Send that to someone with an iPhone it turns their phone off
"-Reddit
A weird line of 'text' was found on Reddit Tuesday morning which claimed that by sending this text to anyone with an iPhone it will crash their phone completely, oddly enough, this is true. This 'bug' is becoming a serious problem by not allowing users to open their messages app after the restart.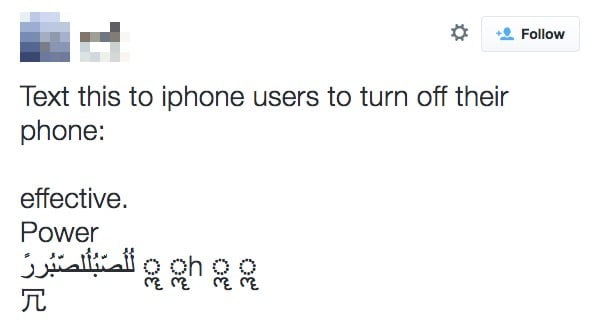 As much as this may look stupid, it actually works, this bug will first crash your iphone (causing it to restart) and then not allow you to open you iMessage app.
If your iPhone received the bug there is a possible solution:
Get someone else to iMessage you a photo, or open the conversation and delete the conversation you got the weird code from.
Do not send this code around because many users are not able to fix there messages app even after following the 'solution'.
Apple Bug